COMPUTER FURNISHINGS
Standard computer furnishings meet most people's needs. When your needs are not being met, it's time to call in Network Evaluation.
Network Evaluation's Computer Furnishings can address many needs. Examples are:
Silencing/Noise mitigation - Full or partial enclosures can reduce or eliminate noise. In extreme cases (See photos below) the sound absorbing materials can restrict airflow so that forced ventilation is also necessary.
Ergonomic and Accessibility - Place equipment where people can use it effectively, in a position where the risk of injury is reduced
Equipment Organization, Support & Safety - Equipment should be arranged so that everything is accessible, and mounted in a safe manner
Equipment Cooling and Air Filtration - Heat can damage electronic equipment and shorten its life. Dust buildup accellerates this process. By enclosing equipment in a controlled environment, dust can be kept out, and cooling fans used to ensure that the equipment will be kept at a safe temperature.
Professional Integrated Appearance - Many times, equipment areas are visible within commercial offices, and detract from the professional appearance desired.
---
Silencing Cabinet - The cabinet below was designed for an engineering firm which has a need for high capacity servers, but is an open office environment where the noise level is distracting. The solution was to completely enclose the equipment in a sound-proofed, ventilated cabinet. The exterior is pre-finished melamine over particle board to provide a clean, neat appearance.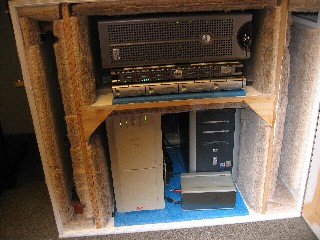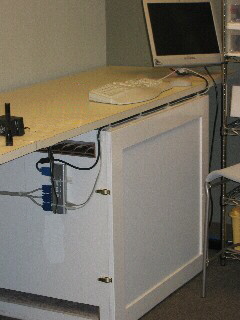 ---
Low-Cost Computer Center/Office - The home office pictured below was designed to replace several free-standing bookshelves, and two free-standing computer desks. The additional constraint was a limited budget. To meet this need, the desktops are made from kitchen countertops and pre-fab melamine finished bookshelves all purchased from a home-improvement store, and then trimmed to fit the environment. The only custom portion was the wall mounted support brackets seen below left. Although invisible, the bookshelves on the right have two key safety features: plywood shear panels bolted through across the entire top surface to keep them stable in the event of an earthquake. The shelving units are also screwed in place from below the desktops.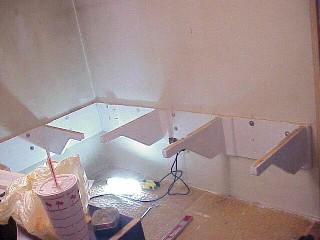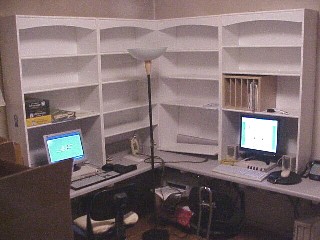 ---
Accessible Printer & Network Equipment Stand - This cabinet was designed to fit into an existing home office where everything needs to be accessible for an elderly seated user. The key item was that the all-in-one printer had a rear door for clearing paper jams. This drove the need to have the printer's rear door available without having to move the printer. The network equipment (DSL Modem, Firewall, etc.) is in the lower left drawer, and industrial cable track was used to keep all wiring in place without tangling, while allowing the drawer to open and close easily. The cable track can be opened (un-snapped) on its inside radius to allow adding or removing cabling as needed. Color coordinated plastic grommets allow for wiring paths while keeping a neat appearance, and the left side has a shelf which can be raised for additional table space. Since this project was designed to serve the specific needs of the user, it required an initial consultation to determine the user's needs, then a full-scale model was made with cardboard, and presented to the user to verify that it met his needs. Once approved, the product was then built and finished.